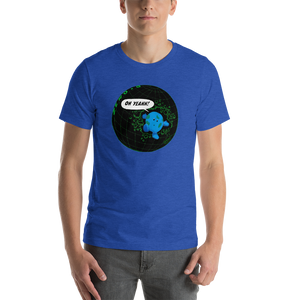 SpaceX DM-1 Zero-G Indicator Buddy T-Shirt
THE DESIGN:
Parody design by Abby Garrett of the Celestial Buddy Zero-G indicator SpaceX used on its Crew Dragon Demo-1 mission to the ISS. This design is a space-themed parody of the "OH YEAAHH!" Kool-aid Man advertisement and symbolically depicts the little Earth plushie, named "Zero-G Buddy" in Go For Launch Comics, busting out of Earth's gravitational field. This is a must-have for any SpaceX fans who are celebrating the success of the DM-1 mission and enjoy a little nostalgic humor.  The shirt material is soft and lightweight.

Zero-G Buddy is one of the newest Go For Launch Comics characters.
GENERAL SHIPPING:  Both Domestic (US) and International orders may be placed for this item!  A large selection of shipping methods from USPS and UPS are available at various rates so you can select the best option for you.  Delivery estimates depend on location and manufacturing schedule, as each t-shirt must be printed individually before shipping.  Fulfillment, or creation of the shirt and shipping it from the supplier, may take up to two weeks plus the predicted amount of days associated with whichever shipping speed you choose at checkout.  However, this is heavily impacted by Covid-19, so this may take longer.  Please read all the information on this page for more details and important info regarding time-sensitive matters. The t-shirt website and app should provide you with an estimated fulfillment date range and you should get email updates regarding your order. *Please read the full information section on shipping below the size chart.*


THE SHIRT:
This unisex t-shirt is soft and lightweight, with the right amount of stretch. It's comfortable and flattering for both men and women. Please read the details below for more information on size measurements, fabric notes, and alternate options for 2XL-5XL before ordering.

• 100% combed and ring-spun cotton (heather colors contain polyester)
• Fabric weight: 4.2 oz (142 g/m2)
• Shoulder-to-shoulder taping
• Side-seamed
Space fans may find this shirt fit and feel comparable to the mission shirts SpaceX sells.
Note:  See heavier cotton shirt options on the Merch page if you require thicker material or sizes 2XL, 3XL, or 4XL.Due to the lightweight material used for this shirt, white shirts might appear slightly transparent.  Nude-colored undergarments are suggested for "lightweight" white shirts if there is concern. 
The Male model is wearing a size M. He's 6.2 feet (190 cm) tall, chest circumference 37.7" (96 cm), waist circumference 33.4" (85 cm).
The female model is wearing a size M. She's 5.8 feet (178 cm) tall, chest circumference 34.6" (88 cm), waist circumference 27.16" (69 cm), hip circumference 37.7" (96cm).
Size guide
| | | | | | | | | |
| --- | --- | --- | --- | --- | --- | --- | --- | --- |
|   | XS | S | M | L | XL | 2XL | 3XL | 4XL |
| Length (inches) | 27 | 28 | 29 | 30 | 31 | 32 | 33 | 34 |
| Width (inches) | 16 ½ | 18 | 20 | 22 | 24 | 26 | 28 | 30 |
SHIPPING (IMPORTANT):  All orders are print-on-demand out of a professional third party printing warehouse and are *usually* shipped within 4-10 business days after payment is processed.  The order will then be delivered in accordance with the shipping service and speed purchased.  Holiday hours, time of the year, weather issues, pandemics, epidemics, natural disasters, alien invasions, and other circumstances affecting delivery may delay up to 4 weeks. Please plan accordingly and choose the appropriate shipping option at checkout to meet your needs and place an order well in advance if you have an event coming up. Once the shirt has shipped from the warehouse, you will receive an automated email with tracking information. International orders are permitted, but please keep the Covid-19 delay issue in mind and how this may affect customs processing and shipping.  All items except original art and GFL Book 1 are print-on-demand and handled by a third party.  I do not keep inventory for t-shirts in my studio or handle shipping them.  Because of this, I have little control over fulfillment speed or how quickly they can be printed. I do not suggest placing an order if it is time-sensitive, as international orders could take months to deliver.  If you want to purchase something as a gift or for a particular occasion, try to place it as far in advance as possible.  I suggest 6 months to be on the safe side.   
PRODUCTION SPEED & COVID-19: 
Processing and production time is usually 4-7 business days, plus the time associated with the shipping speed selected by the customer.  However, this is heavily impacted by Covid-19 and all print-on-demand items can take up to a month to deliver in some cases.  If you are buying this as a gift or have a time-sensitive matter, I suggest sending an email before placing your order.  You can use the contact form on the website or email abbygarretturgent@gmail.com.
Please click HERE to read the full return policy, contingencies, and FAQs.  By placing an order, you are implying you have read and understand these terms.  In short...
• Returns & Exchanges are NOT accepted unless an error occurred on behalf of the manufacturer, such as damage apparent upon arrival or sending the incorrect item. Any claims for misprinted/damaged/defective items must be submitted to abbygarretturgent@gmail.com within 2 weeks after the product has been received.
• Wrong Address - The customer is responsible for providing the correct address information, including apartment or unit number when applicable.  If you provide an incorrect address or one that is considered insufficient or invalid by the courier, the shipment will be returned to the manufacturing facility. You must provide a correct address and will be liable for reshipment costs once we have confirmed the updated address with you.
• Unclaimed, Stolen, or Misplaced Packages - All domestic shipments come with tracking numbers and a GPS location is recorded each time the item is scanned by the carrier. This is the case with all tracking numbers, regardless of carrier. This means if your package was successfully delivered, the carrier will be able to confirm the GPS location and time of delivery with the tracking number. Customers are responsible for their packages upon delivery. Refunds are not issued for items stolen, damaged, or misplaced after delivery.
Read: FULL RETURN POLICY